I'm always looking for parallels – examples from other industries on how they use data to drive better decisions. While on the road, I listened to several Freakonomics podcasts. One that related well was titled Bad Medicines, Part 2: (Drug) Trials and Tribulations.
Much of the podcast discussed how human medicine is transitioning from being "eminence-based" to "evidence-based". Eminence is where decisions are based on the advice of a distinguished expert who has a combination of practical experience and powerful communication skills (still happens in agriculture). Evidence-based decisions results from randomized and replicated trials to drive future decisions.
Some of what the medical community believed to be true has now been proven to be wrong. But even the move to doing trials has had issues.
In the late 50's and early 60's, a new sedative called thalidomide was introduced in much of the world as a sleep aid. What was unknown about the drug, which was given to the general population including pregnant women, was that it caused fetal deaths and serious birth defects. At the time, President John F. Kennedy praised our FDA because the drug had not yet been licensed in the U.S.
One of the results of this tragedy was a decision to exclude women (because the risk of pregnancy) from all clinical drug trials. The podcast highlighted the fact that not doing trials on 50% of the population had unintended consequences with other drugs which behaved differently because of the differences in metabolism between men and women.
One of the obvious parallels for crop production is that most agronomic trials are done on the best soils in the best parts of the best fields. Most variety trials are intentionally located on well-drained, high fertility environments – the trial design is to eliminate any variables other than genetic differences. Just as women represented a significant under-tested percentage of the population, we don't have many trials on our less than ideal soils. Using your own data to compare varieties or treatments on your less productive soils can be more valuable than any plot book.
Another similarity between medicine and crop production trials occurs when trial protocols are tilted to situations that favor the product's performance. In drug trials, it can be as simple as choosing younger patients with the medical condition. Younger patients, as compared to older, tend to have fewer "additional" health issues that might mask or override the drug's effects. Crop production trials can have a similar protocol bias. Testing a nutrient enhancer in a low fertility environment or a fungicide on a hybrid with a weak disease rating can show positive results, but they might not be representative of how the product performs on your soils with your hybrids.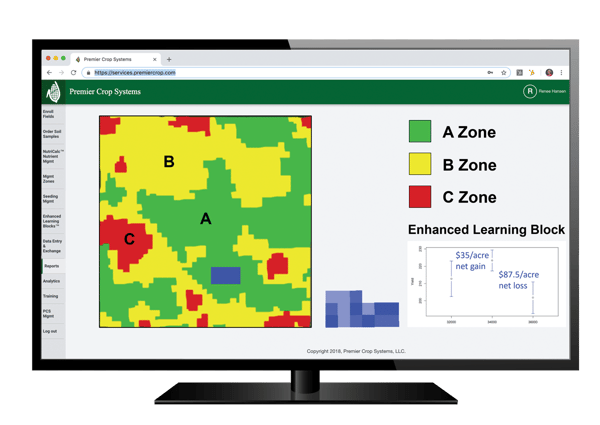 You can use your precision ag equipment to do trials in your own fields to achieve valuable results from your most challenging soils and fields. As human medicine has moved to evidence-based decision making, one thing they discovered is that approximately 15% of the time, an established treatment has been overturned or reversed. Since medical research greatly outspends agricultural research, it will be interesting to find out how much of what we thought we know isn't correct.
Premier Crop has developed Enhanced Learning Blocks. These scientific trials enable you to test new crop production inputs in randomized, replicated trials to identify optimal input rates for your local area with minimal risk. The scalable patent pending approach from these trials create local agronomic knowledge specific to your geography.