I grew up attending a small rural Iowa Methodist church and the theology from the pulpit was all about being "color blind". Of course, the irony was that we all looked the same. The color blind theology was all about seeing beyond the surface – looking deeper to find real values versus making judgements based on what's on the surface.
The agronomic and economic data from each part of all your fields can be a powerful tool that allows you to look deeper than what is on the surface. Maps are a great way to visualize data – but the combination of the data layers that each map represents will allow you to gain new and valuable knowledge that can drive more profitable data-driven decisions.
Decades ago, before Premier Crop, I asked one of our most reliable employees to prime and paint a piece of equipment. The primer coat was a red color and the priming process went well. But when it came time for the final coat of dark green, the results weren't so good. There were obvious missed spots on every surface.
It was one of my first encounters with red-green color blindness. Red-green color blindness is the most common form of color blindness, impacts men far more than women and can affect almost 10% of those of us with European heritage.
Virtually all precision ag companies love to display data using colorful maps. Premier Crop is just as guilty as any other company of ignoring the 10% of our customers that can't see differences in our red-to-green yield maps.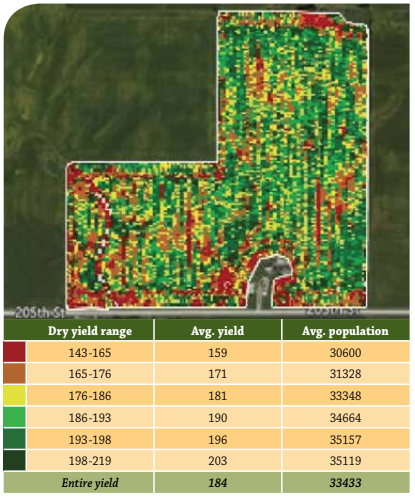 Throughout our history, I've always thought color blind growers understood our message more quickly than others – that the power is in the data. They have no choice but to get beyond the pretty map phase.
The best data is the color blind! it doesn't care about the color of the seed logo, the equipment used, the nutrient package or crop protection choice. it isn't cleansed or stored or manipulated to tilt the results in one direction or another. Color blind data has no stake in what product or rate wins.
Maps can help tell us where, but data can tell us what, how much and why!
Did planting higher populations in the best parts of the field pay? Your data can answer that question. What color blind story does your data tell about hybrid and variety performance? Did your seed treatment result in higher yields? Does fungicide timing matter? Did that late season nitrogen pay for the extra trip? Look beyond the surface – be color blind and look deeper in your data for more value.