In the early 1970s, I was fortunate to work for a farming operation that was serious about soil conservation. Serving on State Soil Conservation boards, building terraces, implementing no-till, when planters and weed control options were crude by today's standards – they were soil stewards. Because of their mentorship, I've always taken soil conservation seriously.
In the 1980s, I found myself defending the use of commercial fertilizers. Those that attacked their use liked to describe them as "chemical fertilizers". If you remember the Periodic Table of Elements in your first chemistry class – you know nutrients are chemicals. Phosphorus and potassium are minerals that mined from the earth, and nitrogen is made from the air (which is 78% nitrogen). Nitrogen fertilizer is a chemical and combining hydrogen from natural gas, with nitrogen from the air, to produce nitrogen fertilizer, was a significant scientific achievement. We have to be judicious in how we apply Nitrogen from all sources, but since it takes energy to create nitrogen fertilizer, it warrants additional attention.
What I understood then as I do now, is that we need integrated approaches to crop management to be both economically and environmentally sustainable. How we manage weeds, insects, nutrients – including organic nutrients, tillage, residue and crop rotations have serious consequences both for the environment and growers' balance sheets.
One of the thoughts that's been rumbling around in my head relates to soil health. In some circles, soil health tends to end up in a discussion about farming practices – almost a checklist of do's and don'ts. Other approaches try to quantify soil health with a test. I tend to like the test concept because it starts to allow us to make comparisons from field to field, within fields, benchmark over time and eventually be able to quantify changes.
Our company, Premier Crop, is all about managing variability within fields and between fields to maximize a grower's return on investment. We use yield files from calibrated yield monitors to measure our success both agronomically and economically. One of our tools empowers the user to build a multiple year yield map. I find that there are parts of fields that are amazing in their ability to consistently kick out exceptional yields. I understand that there are examples of "throw the kitchen sink" at production and have everything work perfect in a given year.
I'm not talking about a one-hit wonder. I'm talking about areas of fields that are exceptional yielding on consistent basis. Are those areas of the field "healthier" than other areas? Is it possible for them to be unhealthy and be so consistently high yielding?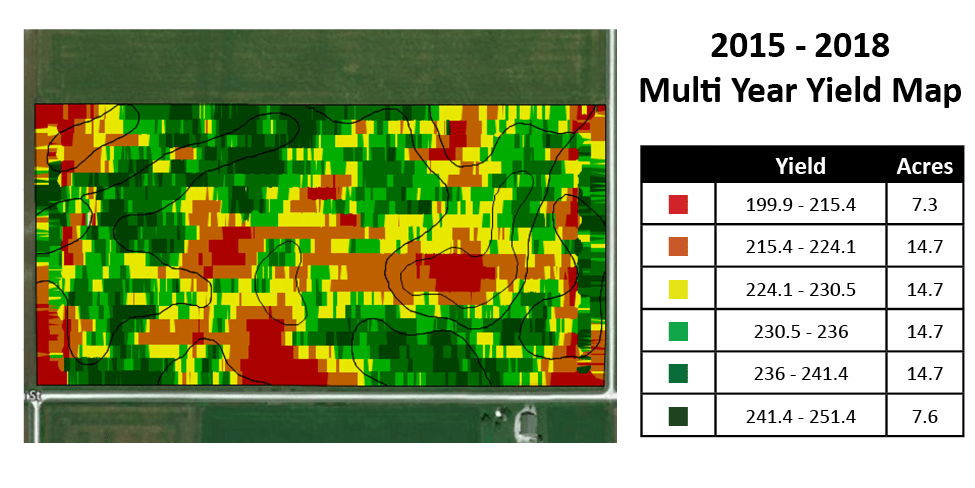 What do these high yield areas have in common?
Drainage is right – either blessed with naturally well drained or a combination of cultural practice and field tile.
They frequently have deeper A horizons (depth of top soil before clay or sub soil) and usually a higher % organic matter.
Usually pH is right – not too high but also not low. That makes sense to me, correct soil pH makes other nutrients, like phosphorous, more available and is needed for the bacteria that increase mineralization to be active.
I believe that nutrient cycling is better in these areas – that is soil supplied and fertilizer/manure supplied nutrients cycle to plant useable forms better than in other parts of the field. There is a strong relationship in parts of fields between consistently high yields and soil health. I believe you can have healthy soils that aren't exceptionally high yielding (can be limited by other management choices). But I don't believe you can get consistently high yields on unhealthy soils. If you're trying to understand differences in soil health within your fields, I'd be inclined to start with a multi-year map.